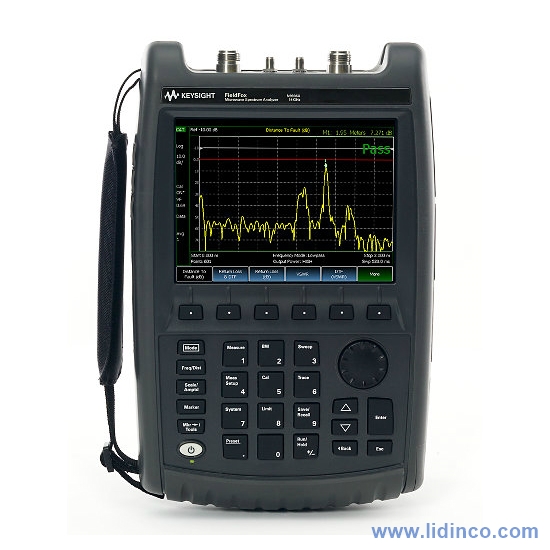 Handheld Spectrum Analyzers Keysight N9935A 5 KHz- 9 GHz
• Manufacturer

• Model

• Warranty


Keysight

N9935A

12 months
Please call us to get the best price and service
(08) 3977 8269 – (08) 3601 6797
Email: sales@lidinco.com – lidinco@gmail.com
Description
Specifications
Accessories
Description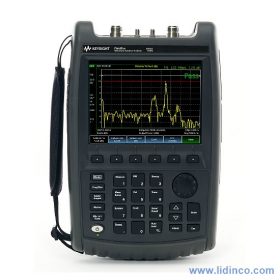 Handheld Spectrum Analyzers Keysight N9935A 5 KHz- 9 GHz
Spectrum analyzer
  5 kHz to 9 GHz
  ± 0.5 dB amplitude accuracy, full band, over full temperature range of -10 to +55 °C (14 to 131 °F)
  Spur-free dynamic range ≥ 105 dB
Tracking generator
  30 kHz to 9 GHz
  VSWR and reflection measurements
Power and pulse measurements
  Channel power, occupied bandwidth and adjacent channel power ratio
  Average power, peak power, and pulse characterization with USB power sensors
  Built-in power meter: 5 kHz to 9 GHz
FieldFox instrument attributes
  Remote control via iPad or iPhone
  Standard 3-year warranty
  Battery life: 3.5 hours; weight: 3.0 kg or 6.6 lbs
  Operating temperature: -10 to +55 °C (14 to 131 °F)
Maximum Frequency

9 GHz

SA Start Frequency

5 kHz

Dynamic Range

103 dB

Output Power

-2 dBm

Number of Built-In Ports

2 ports

Best Speed at 201 Point, 1 Sweep

210 ms

Instrument Type

Spectrum Analyzer

Cable and Antenna Analyzer

No

Spectrum Analyzer

Yes

Vector Network Analyzer

No

Applications

Interference Analysis

Power Measurements

Components

Cables

Antennas

Amplifiers

Additional SA Based Features

Built-In Power Meter

Extended Range Transmission Analysis (ERTA)

System Features

Built-In DC Source

GPS Receiver - Internal and External

Power Measurement Using USB Sensor

CW or Swept-Frequency

Frequency-Offset

RF Pulse Test with Peak Sensor

Standard Attenuator Range

30 dB

Standard Attenuator Step

5 dB

Maximum Dynamic Range 3rd Order @1 GHz

n/a

DANL @1 GHz

-155 dBm

Maximum Analysis Bandwidth

n/a

Phase Noise @1 GHz (1 MHz offset)

-113 dBc/Hz

Phase Noise @1 GHz (10 kHz offset)

-111 dBc/Hz

Phase Noise @1 GHz (30 kHz offset)

-110 dBc/Hz

TOI @1 GHz (3rd Order Intercept)

+15 dBm

Applications Available

Yes

Frequency

5 kHz to 9 GHz

Overall Amplitude Accuracy

±0.5 dB

Bandwidth Options

n/a

Frequency Options

9 GHz

Performance Level

◆◆◆◇◇◇

Applications-Cellular

n/a

Applications-Digital Video

n/a

Applications-General Purpose

AM/FM Tune and Listen

Field Strength Measurement

SCPI Code Compatibility

Spectrogram

Stimulus Response

Applications-Wireless Connectivity

n/a

Handheld

Yes
Opt. 310 Built-in Power Meter


Facilitates very accurate channel power measurements. 

Opt. 220 Full-Band Tracking Generator
Opt. 235 Pre-amplifier


Full band; nominal gain 20 dB 

Opt. 236 Interference Analyzer and Spectrogram
Opt. 302 USB Power Sensor Support


Allows for absolute power measurements 

Opt. 307 GPS Receiver


Provides geo-location data 

Opt. 309 DC Bias Variable-Voltage Source
Opt. 320 Reflection Measurements


Return loss, VSWR and scalar measurements. Requires Opt. 220: Full-band tracking generator. 

Opt. 030 Remote Control Capability


Remotely-control FieldFox Analyzer via an iOS device such as an iPad or iPhone. 

Opt. 208 External USB Power Measurement vs Frequency


Allows the use the external USB power sensor and internal signal source to make frequency offset measurements that evaluate frequency converter performance like loss, gain and bandwidth. 

Opt. 209 Extended Range Transmission Analysis (ERTA)


Allows measurement of very long microwave cable losses which cannot be done by traditional cable and antenna testers or VNAs. 

Opt. 238 Spectrum Analyzer Time Gating
Opt. 312 Channel Scanner


Can scan 20 independent channels at any given frequencies, with GPS information, the data can be exported to Google Maps to evaluate signal coverage, and identify potential interference issues. 

Opt. 330 Pulse Mode


support of U202x peak power sensor to characterize pulse profiling, like rise, fall and width, etc. 

Opt. 355 Analog Demodulation


Verifies AM/FM transmitter performance and troubleshoots potential hardware issues with transmitters such as 2-way and airport traffic control radios.