Description
Additional information
DOWNLOAD
Description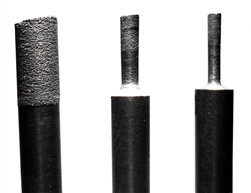 Recommended for grinding non-metals such as mold compound, silicon, glass, and ceramic. Compared with plated tools, they are made with finer diamonds bound in a metal matrix that provides longer life and maintains better shape/profile, higher accuracy and finer surface finish.
Coarse: Recommended for ceramics.
Medium: Recommended for ceramics.
Fine: Recommended for mold compound, ceramic and bulk silicon.
Very Fine: Recommended for silicon.
| | |
| --- | --- |
| 15-92CMB3.0 | Diamond Tool – Coarse, Metal Bond, 3.0 mm D x 1.5″ L x 3 mm shank (Pk/2) |
| 15-92MMB1.0 | Diamond Tool – Medium, Metal Bond, 1.0 mm D x 1.5" L x 3 mm shank (Pk/2) |
| 15-92MMB1.5 | Diamond Tool – Medium, Metal Bond, 1.5 mm D x 1.5" L x 3 mm shank (Pk/2) |
| 15-92MMB3.0 | Diamond Tool – Medium, Metal Bond, 3.0 mm D x 1.5″ L x 3 mm shank (Pk/2) |
| 15-92FMB0.55 | Diamond Tool – Fine, Metal Bond, 0.55 mm D x 38 mm L x 3 mm shank (Pk/2) |
| 15-92FMB0.7 | Diamond Tool – Fine, Metal Bond, 0.7 mm D x 1.5″ L x 3 mm shank( Pk/2) |
| 15-92FMB1.0 | Diamond Tool – Fine, Metal Bond, 1.0 mm D x 1.5″ L x 3 mm shank (Pk/2) |
| 15-92FMB1.5 | Diamond Tool – Fine, Metal Bond, 1.5 mm D x 1.5″ L x 3 mm shank (Pk/2) |
| 15-92FMB3.0 | Diamond Tool – Fine, Metal Bond, 3.0 mm D x 1.5″ L x 3 mm shank (Pk/2) |
| 15-92VFMB0.70 | Diamond Tool – Very Fine, Metal Bond, 0.7 mm D x 1.5″ L x 3 mm shank (Pk/2) |
| 15-92VFMB1.0 | Diamond Tool – Very Fine, Metal Bond, 1.0 mm D x 1.5″ L x 3 mm shank (Pk/2) |
| 15-92VFMB1.5 | Diamond Tool – Very Fine, Metal Bond, 1.5 mm D x 1.5″ L x 3 mm shank (Pk/2) |
| 15-92VFMB3.0 | Diamond Tool – Very Fine, Metal Bond, 3.0 mm D x 1.5″ L x 3 mm shank (Pk/2) |