NEODEN T8L SMD Reflow Ove
Hotline:

+84 906 988 447  
Head Office: Ho Chi Minh City
Tel: +84 2839 778 269 / 3601 6797
Email: sales@lidinco.com
Add: 487 Cong Hoa Street, Ward 15, Tan Binh Dist, HCM City, Vietnam
Office: Bac Ninh City
Tel: +84 222 730 0180
Email: bn@lidinco.com
Add: 184 Binh Than Street, Vo Cuong Ward, Bac Ninh City, Vietnam
Technical Counseling

100% Free

Free Shipping

For 3.000.000vnd Order
Description
NEODEN T8L SMD Reflow Ove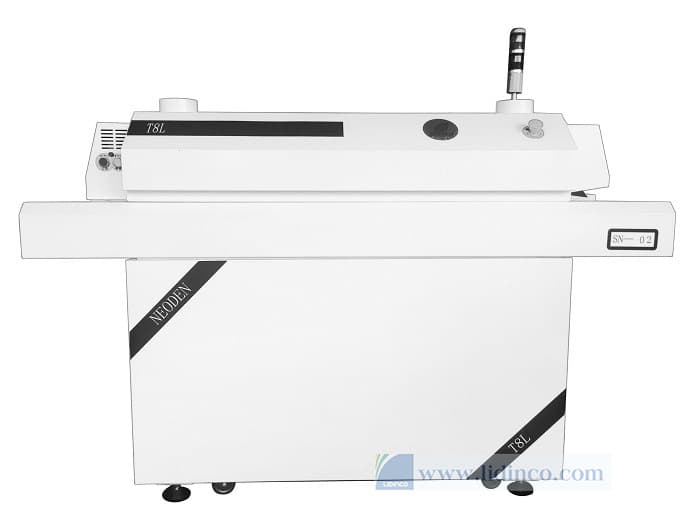 T8L Reflow Oven Hot Air SMD Soldering Machine – non-removable structure Reflow oven – worked with hot wind to welding PCB, support most normal components,LEDs and Chips.
Features:
The oven contains 8 heating zones, which provide precise temperatures at different stages of the soldering process. Heating and cooling times are optimized to ensure that PCBs benefit from industry-leading soldering techniques.
The height of the T8L table is adjustable, which simplifies the process of building a production line. It's easy to add this machine to your collection of soldering devices, which can enhance your SMT production capabilities considerably.
The sturdy design of the oven ensures that it can fit securely into a larger operation.
The internal conveyor belt can be automated to provide optimal speed with a max conveyor speed of 1200mm/min. Users can read signal lights on the external façade of the machine, which simplifies the process of tracking the machine's internal temperature.
The T8L Reflow Oven can use a single-phase 220V power supply or a three-phase 380V power supply.
In an emergency, the machine contains an emergency shut-down button that prevents further issues.
Specifications:
| | |
| --- | --- |
| Products | T8L Reflow Oven Hot Air SMD Soldering Machine |
| Length*Width*Height    (mm) | 2100*700*1280 |
| Peak Power(KW) | 12 |
| Working Power(KW) | 5 |
| Input Voltage(V) | 220/380 |
| Conveyor Width(mm) | 300 |
| Standard Max Height (mm) | 20 |
| Customized Max height(mm) | 55 |
| Max Speed of Conveyor (mm) | 1200 |
| Packing Size | 220*80*128CM |
| Gross Weight | 300KG |