Description
Specification
Accessories
Description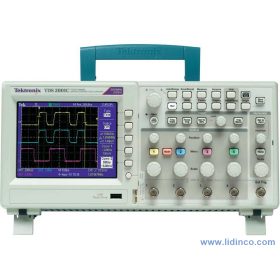 Digital Oscilloscope Tektronix TDS2001C, 50MHz, 2 CH
Performance You Need at a Price You Can Afford
The Tektronix TDS2001C 50 MHz, 2 Channel, 500MS/s Digital Storage Oscilloscope provides you with afford able performance in a compact design. Packed with standard features – including USB connectivity, 16 automated measurements, limit testing, datalogging, and context-sensitive help– the Tektronix TDS2001C oscilloscopes help you get more done, in less time.
Digital Precision for Accurate Measurements
With up to 200 MHz bandwidth and 2GS/s maximum sample rate, no other digital storage oscilloscope offers as much bandwidth and sample rate for the price.The Tektronix TDS2001C proprietary sampling technology provides real-time sampling with a minimum of 10X over sampling on all channels, all the time to accurately capture your signals. Sampling performance is not reduced when using multiple channels.
Critical Tools for Troubleshooting Your Device
The Tektronix TDS 2001C offers tools such as the Advanced triggers – rising/falling edge, pulse width, and video–help you quickly isolate your signals of interest. Once you've captured a signal, advanced math capabilities and automated measurements can speed your analysis. Quickly perform an FFT or add, subtract, or multiply waveforms. Sixteen automated measurements quickly and reliably calculate important signal characteristics such as frequency or rise time, while the built-in Limit Test function enables you to easily identify problems in your signal.
Designed to Make Your Work Easy
The Tektronix TDS-2001-C Series oscilloscopes are designed with the ease of use and familiar operation you have come to expect from Tektronix.
Intuitive Operation
The intuitive user interface with dedicated per-channel vertical controls, auto-setup, and auto-ranging makes these instruments easy to use, reducing learning time and increasing efficiency.
See all the details other oscilloscopes might miss with Tektronix proprietary digital real-time sampling
Help When You Need It, Where You Need It
The built-in Help menu provides you with important information on your oscilloscope's features and functions. Help is provided in the same languages as the user interface.
Probe Check Wizard
Check out your probe compensation before making measurements with just one button that starts a fast, easy procedure.
Limit Test
The Tektronix TDS-2001-C oscilloscope can automatically monitor source signals and output Pass or Fail results by judging whether the input waveform is within predefined boundaries. Specifications can be triggered on violation including stopping waveform acquisition, stopping Limit Test functions, saving the failed waveform data or screen image to a USB memory device, or any combination of the above. This is an ideal solution for manufacturing or service applications where you need to make decisions quickly.
Flexible Data Transfer
The USB host port on the front panel of the Tektronix TDS/2001C enables you to save your instrument settings, screenshots, and waveform data in a flash. The built-in datalogging feature means you can setup your oscilloscope to save user-specified triggered waveforms to a USB memory device for up to 8 hours.
Easy PC Connectivity
Easily capture, save, and analyze measurements results by connecting to your PC with the rear-panel USB device port and the included copy of Open Choice PC Communications Software. Simply pull screen images and waveform data into the stand-alone desktop application or directly into Microsoft Word and Excel. Alternatively, if you prefer not to use your PC, you can simply print your image directly to any PictBridge-compatible printer.
Connect Your Bench for Intelligent Debug
Every TDS2000C Series oscilloscope ships with an included copy of the Limited Tektronix Edition of National Instrument's LabVIEW Signal Express for basic instrument control, datalogging, and analysis. Signal Express supports the range of Tektronix bench instruments enabling you to connect your entire test bench. You can then access the feature-rich tools packed into each instrument from one intuitive software interface. This allows you to automate complex measurements requiring multiple instruments, log data for an extended period of time, time correlate data from multiple instruments, and easily capture and analyze your results, all from your PC. Only Tektronix offers a connected test bench of intelligent instruments to simplify and speed debug of your complex design.
| | |
| --- | --- |
| MODEL | TDS2001C |
| Bandwidth | 50MHz |
| Channels | 2 channels + 1 external triggering channel |
| Sample rate on each channel | 500MS/s |
| Record length | 2.5k points at all-time bases |
| Vertical resolution | 8 bit |
| Bandwidth limit | 20 MHz |
| Input coupling | AC, DC, GND |
| Input impedance | 1 MΩ in parallel with 20 pF |
| Time base range | 2.5 ns to 50 s/div |
| Vertical sensitivity | 2 mV to 5 V/div on all models with calibrated fine adjustment |
| Vertical resolution | 8 bit |
| Trigger source | Two channel models: CH1, CH2, Ext, Ext/5, AC Line |
| Trigger mode | Auto, Normal, Single Sequence |
| Math operation | Windows: Hanning, Flat Top, Rectangular 2048 sample points |
| Digital filter | High-pass, low-pass, band-pass, band-stop |
| Max. input voltage | 300 VRMS CAT II; derated at 20 dB/decade above 100 kHz to 13 Vp-pAC at 3 MHz |
| Auto set | Single-button, automatic setup of all channels for vertical, horizontal, and trigger systems, with undo autoset |
| Auto measuring | Period, Frequency, Pos Width, Neg Width, Rise Time, Fall Time, Maximum , Minimum , Peak-Peak, Mean, RMS, Cycle RMS, |
| Internal memory | Cursor RMS, Phase, Pos Pulse Cnt, Neg Pulse Cnt, Rise Edge Cn, Fall Edge Cn, Pos Duty, Neg Duty, Amplitude, Cycle Mean, |
| Waveform storage with USB flash drive | 96 or more reference waveforms per 8 MB |
| Interface | USB host port on front panel supports USB flash drives |
| Display | 7 inch QVGA Active Color TFT |
| Power source | AC100-240V, 47-440Hz, 50VA Max. |
| Dimension | 326(W)×124(D)×158(H)mm |
| Weight | 2.3kg |
TEK-USB-488            Tektronix TEK-USB-488 USB TO IEEE488 (GPIB) Communications Adapt

SIGEXPTE                Tektronix SIGEXPTE NI Signal Express Tektronix Edition Software

AC2100                     Tektronix AC2100 Large, Soft, Nylon Carrying Case for TBS1000/TDS2000C/TPS2000B Oscilloscopes

HCTEK4321              Tektronix HCTEK4321 Hard Transit Case for use w/ Soft Oscilloscope Cases

RM2000B                  Tektronix RM2000B TDS1000B & TDS2000B SP Oscilloscopes Rackmount Kit
 Probes 

TPP0101                   Tektronix TPP0101 100 MHz, 10X, 1M ohms/20pF Passive Voltage Probe

TPP0201                   Tektronix TPP0201 200 MHz, 10X Passive Voltage Probe

P2220                       Tektronix P2220 200 MHz, 1X/10X Passive Voltage Probe

P6101B                     Tektronix P6101B 15 MHz, 300 VRMS, 1X Passive Probe

P6015A                     Tektronix P6015A 75 MHz, 1000X, Single-Ended High Voltage Probe (No Readout)

P5100A                     Tektronix P5100A 500 MHz, 100X Single-Ended High Voltage Probe

P5200A                     Tektronix P5200A 50 MHz, 50X/500X High Voltage Differential Probe

P2220                       Tektronix P2220 200 MHz, 1X/10X Passive Voltage Probe

P6021A                     Tektronix P6021A 120 Hz-60 MHz, AC Current Probe

P6022                       Tektronix P6022 935 Hz-120 MHz, AC Current Probe

A621                         Tektronix A621 50 kHz, 10 mA-2000A, BNC AC, for DMMs & Oscilloscopes, Current Probe

A622                         Tektronix A622 100 kHz, 50 mA-100 A, BNC AC/DC Current Probe

TCP303                    Tektronix TCP303 5 MHz, 150A TekVPI AC/DC Current Probe

TCP305                    Tektronix TCP305 AC/DC Current Probe; DC-50MHZ, 50A DC

TCP312                    Tektronix TCP312 100 MHz, 30A, AC/DC Current Probe

TCPA300                  Tektronix TCPA300 50 MHz, AC/DC Current Probe

TCPA400                  Tektronix TCPA400 100 MHz, AC/DC Current Probe

TPP0051                  Tektronix TPP0051 50 MHz, 10X Passive Voltage Probe for BNC Oscilloscopes w/1 MOhm/20 pF Inputs
Software
TBX3000A               Tektronix TBX3000A TekSmartLab Hardware (Connects Instruments to Network)

TSL3000B                Tektronix TSL3000B TekSmartLab Software (No Options)