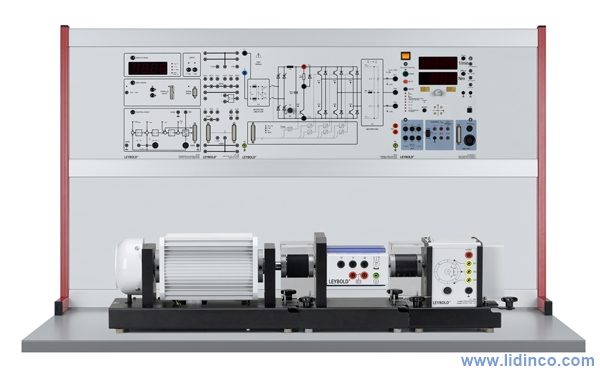 Servo AC
Description
Power electronics, control equipment, etc. are set up in training panel frames. The servo machine used here is a dynamic industrial machine with a particularly small moment of inertia. The load characteristics can be recorded using the Machine test system 0.3. Power is supplied to the machine under test via a frequency converter especially designed for educational purposes which obtains its power from the mains (mains voltage, 230 V).
Objectives
Protective measures and electrical safety
Set-up of power generating systems according to circuit diagrams
Putting electrical drives into operation
Recording of load characteristics with various operating parameters
Achieving skills in measuring electrical machines
Automatic speed control for an AC servo machine
An AC servo consists of a permanently excited synchronous rotor, a frequency converter with a variable voltage link circuit and digital closed-loop control. A sensor detects the angular position of the motor shaft and uses the information to control the converter. This equipment set investigates AC servos with block commutation.
Students work in the power engineering lab with mains voltage. Experiments procedures are contained in a printed manual.
The experiments are designed for intermediate and advanced levels.
Advanced experiments can be found in the equipment set E2.6.2.3 Closed-loop position and servo control.
Topics
Coupling of motor and commutation sensor
Steady-state response
Load characteristics
Measurement of motor current
Variation of duty cycle
Variation variable voltage link
Variation of commutation angle
Dynamic response
Structure of the controlled system
Stress cycle with servo position control