DC Power Supplies Twintex TP1305EC, 0~30V/0~5A
DC Power Supplies Twintex TP1305EC, 0~30V/0~5A
2.350.000đ
(Price does not include VAT)
DC Supply Type:

Output Channel:

Output Current:

Output Voltage:
There are currently no promotions for this product
Hotline:

+84 906 988 447  
Head Office: Ho Chi Minh City
Tel: +84 2839 778 269 / 3601 6797
Email: sales@lidinco.com
Add: 487 Cong Hoa Street, Ward 15, Tan Binh Dist, HCM City, Vietnam
Office: Bac Ninh City
Tel: +84 222 730 0180
Email: bn@lidinco.com
Add: 184 Binh Than Street, Vo Cuong Ward, Bac Ninh City, Vietnam
Technical Counseling

100% Free

Free Shipping

For 3.000.000vnd Order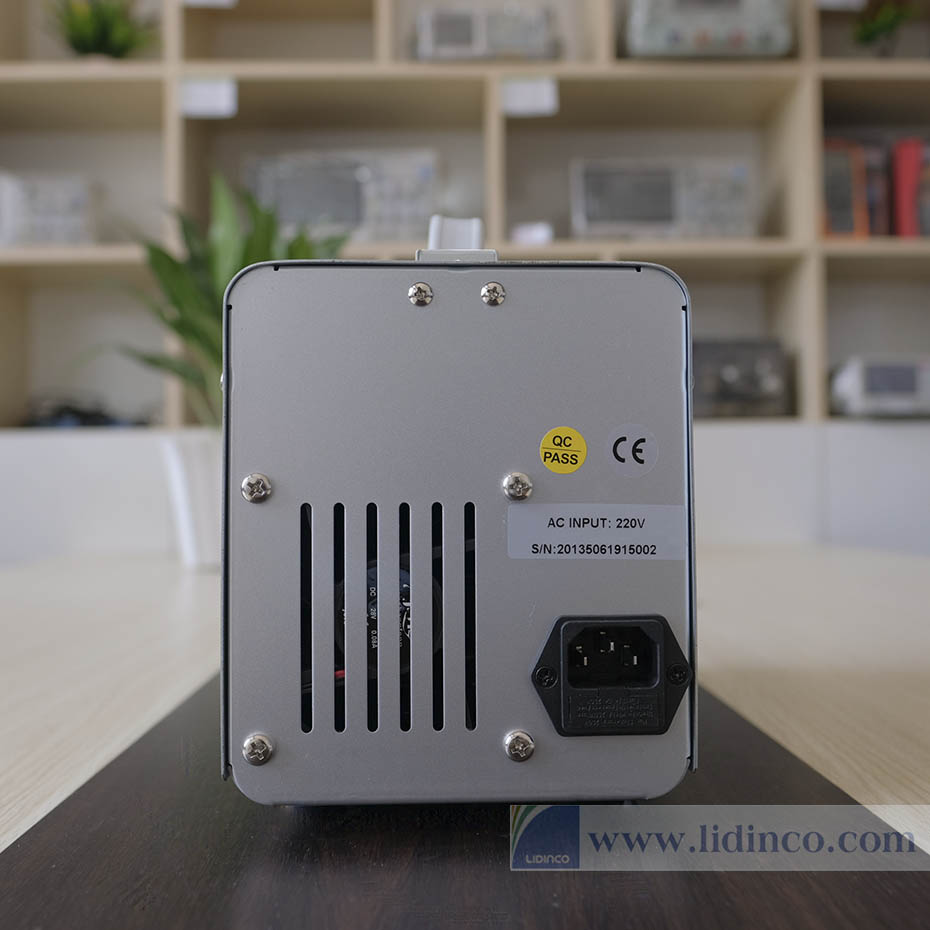 Description
DC Power Supplies Twintex TP1305EC, 0~30V/0~5A 
Introduction The TP1000EC series are low-cost linear DC power supplies with 1 channels, 90W to 180W output. In constant voltage and current operations, the power supply provides high regulation and low ripple & noise. There is coarse and fine control adjustment for voltage and current. The TP1000EC series are widely used in applications of powering operational amplifier, push pull stages, logic circuit and definition systems. 
Features

 
Constant voltage and constant current operations

 

High efficiency, light and compact design

 

 High power density

 

Over load and reverse polarity protections

 

Dual-color two digital panel meters

 


 
Constant voltage Operation

Load regulation

≤0.02%+5mV

Line regulation

≤0.02%+5mV (I>3A), ≤0.01%+3mV (I≤3A)

Ripple & Noise

≤2mV rms

Temperature co-efficient

≤300ppm/℃

Recovery time

≤100us (50% load change, minimum load 0.5A)

Constant current operation

Load regulation

≤0.2%+3mA

Line regulation

≤0.2%+3mA

Temperature co-efficient

≤500ppm/℃

 

Display

Meter

3 digits LED display

Resolution

100mV/10mA

Accuracy

Voltage

±(0.5% reading+2digits)

Current

±(0.1% reading+2digits)

Protection

Over load and reverse polarity protections

Power source

AC110V/220V ±10% selectable, 50/60Hz

Operating environment

0℃~40℃, <80%

Storage environment

-10℃~70℃, <80%
Phụ kiện theo máy 
Phụ kiện mua rời 
| | | | |
| --- | --- | --- | --- |
| Ảnh sản phẩm  | Mã sản phẩm  | Mô tả  | Mã sản phẩm phù hợp  |
|   | TL-103  | Dây dẫn, đầu cá sấu sang bắp chuối Dòng điện tối đa 3A, dài 100cm  | TPM/TP1000EC/TP1000C/TP1000/TP20 00E/TP2000K/TP2000/TP2000TK/TP200 0N/TP2000PU/TP3303/TP3300U/TP3300 D/TP3300E  |
|   | TL-104  | Dây dẫn, đầu cá sấu sang bắp chuối Dòng điện tối đa 10A, dài 100cm  | TPM/TP1000EC/TP1000C/TP1000/TP20 00E/TP2000K/TP2000/TP2000TK/TP200 0N/TP2000PU/TP3303/TP3300U/TP3300 D/TP3300E  |
|   | TL-105  | Dây dẫn, đầu Y sang cá sấu Dòng điện tối đa 3A, dài 100cm  | TPM/TP1000EC/TP1000C/TP1000/TP20 00E/TP2000K/TP2000/TP2000TK/TP200 0N/TP2000PU/TP3303/TP3300U/TP3300 D/TP3300E  |
|   | TL-106  | Dây dẫn, đầu Y sang cá sấu Dòng điện tối đa 10A, dài 100cm  | TPM/TP1000EC/TP1000C/TP1000/TP20 00E/TP2000K/TP2000/TP2000TK/TP200 0N/TP2000PU/TP3303/TP3300U/TP3300 D/TP3300E  |
|   | TL-107  | Dây dẫn, đầu cá sấu sang bắp chuối Dòng điện tối đa 3A, dài 100cm  | TPM/TP1000EC/TP1000C/TP1000/TP20 00E/TP2000K/TP2000/TP2000TK/TP200 0N/TP2000PU/TP3303/TP3300U/TP3300 D/TP3300E  |
|   | TL-108  | Dây dẫn, đầu cá sấu sang bắp chuối Dòng điện tối đa 10A, dài 100cm  | TPM/TP1000EC/TP1000C/TP1000/TP20 00E/TP2000K/TP2000/TP2000TK/TP200 0N/TP2000PU/TP3303/TP3300U/TP3300 D/TP3300E  |
|   | TL-109  | Dây dẫn, đầu cá sấu sang bắp chuối (chuẩn châu Âu) Dòng điện tối đa 3A, dài 100cm  | TPM/TP1000EC/TP1000C/TP1000/TP20 00E/TP2000K/TP2000/TP2000TK/TP200 0N/TP2000PU/TP3303/TP3300U/TP3300 D/TP3300E  |
|   | TL-110  | Dây dẫn, đầu cá sấu sang bắp chuối (chuẩn châu Âu) Dòng điện tối đa 10A, dài 100cm  | TPM/TP1000EC/TP1000C/TP1000/TP20 00E/TP2000K/TP2000/TP2000TK/TP200 0N/TP2000PU/TP3303/TP3300U/TP3300 D/TP3300E  |
|   | TL-111  | Dây nối đất, bắp chuối sang bắp chuối Dòng điện tối đa 10A, dài 100cm  | TPM/TP1000EC/TP1000C/TP1000/TP20 00E/TP2000K/TP2000/TP2000TK/TP200 0N/TP2000PU/TP3303/TP3300U/TP3300 D/TP3300E  |
|   | TL-112  | Dây dẫn, bắp chuối sang bắp chuối (chuẩn chậu Âu) Dòng điện tối đa 10A, dài 100cm  | TPM/TP1000EC/TP1000C/TP1000/TP20 00E/TP2000K/TP2000/TP2000TK/TP200 0N/TP2000PU/TP3303/TP3300U/TP3300 D/TP3300E  |