Mitsubishi F Series
Hotline:

+84 906 988 447  
Head Office: Ho Chi Minh City
Tel: +84 2839 778 269 / 3601 6797
Email: sales@lidinco.com
Add: 487 Cong Hoa Street, Ward 15, Tan Binh Dist, HCM City, Vietnam
Office: Bac Ninh City
Tel: +84 222 730 0180
Email: bn@lidinco.com
Add: 184 Binh Than Street, Vo Cuong Ward, Bac Ninh City, Vietnam
Technical Counseling

100% Free

Free Shipping

For 3.000.000vnd Order
Desccription
Lidinco provides a practical set of Mitsubishi robotics. Robot practice kits are widely used in schools and centers in Vietnam
Robot technology and robot application are very developed and achieved a lot of success when applied in practice. Robots have replaced humans working in toxic, dangerous environments or imitating humans from shapes, gestures, perception etc.. The most commonly seen application areas of Robots are: Robots in training , Robots in Industry and Robots in Military..etc..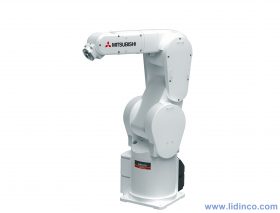 Datasheet: Download here 
Please contact to us for more information: 
Email: sales@lidinco.com or lidinco@gmail.com 
Tel: 08 3601 6797 or 08 39778269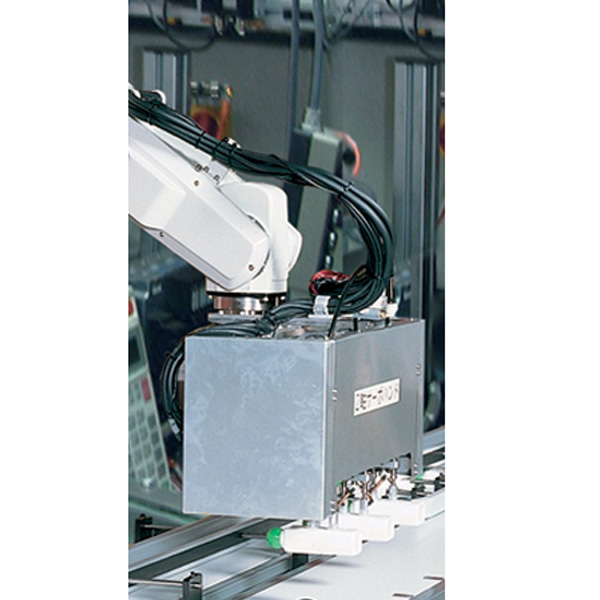 FLEXIBILITY
MEET CHANGING DEMAND AT A MOMENT'S NOTICE.
Insert six cookies in a pouch in the morning and package twelve cookies into a blister in the afternoon, all using the same robot. Staying competitive means shifting tasks as needed. Our robots easily adapt to changes in volume, capacity and capabilities. Mitsubishi maximizes flexibility to accommodate shorter product lifecycles, frequent product changes and product redesign. Keeping in mind your need for wide variations in payloads, reach and stroke, our robots quickly move from application to application to ensure your processes are always at peak performance. CUSTOMIZED TO FIT YOUR NEEDS. Mitsubishi robots can be used to perform multiple sets of operations. Pick raw stock randomly fed on a conveyor. Load it into a machine. Unload the finished part. Deburr the edges. Inspect it. Reject a bad part if necessary. Neatly stack the good part into a bin. Our robots have the flexibility to perform the operations you need most.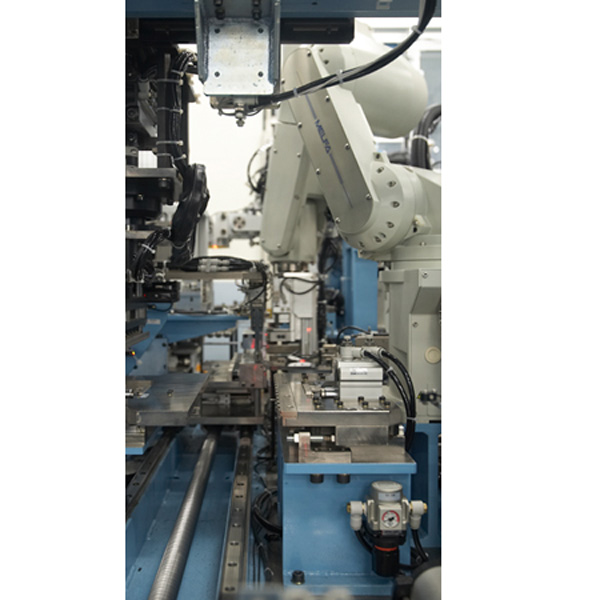 EFFICIENCY
MAXIMIZE UPTIME AND QUALITY.
Mitsubishi robots can work 24/7, operating at constant speeds, without any need for lunch breaks or days off. With highly precise, repetitive motions, our robots reduce errors and eliminate defects associated with human labor. Efficiency is vital to ensuring quality and profitability, and that's what Mitsubishi robots are designed for. Because they can work at any required time to meet market demands, our robots provide you with the best possible ROI.
LET OUR ROBOTS DO THE MUNDANE WORK.
If it moves, we can make it move better. Mitsubishi's simulation and robot software allow you to program your process to minimize wasted moves. The high repeatability of our robots allow them to perform any repetitive operation more efficiently than a manual process. Mitsubishi robots are robustly constructed to perform continuous operations. This allows them to maintain uptime, thereby boosting efficiency.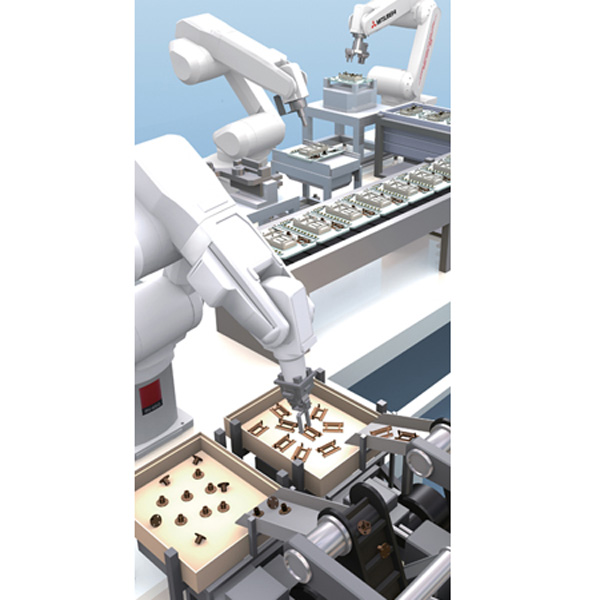 THROUGHPUT
GET CLOSER TO A PERFECT PROCESS.
The adage "every second counts" is especially true in production where the greater the throughput time the less the margins. With reduced throughput, you can address market demands for faster delivery and shorter lead times. Combining speed, accuracy and flexibility, our robots are ideal for the most demanding, high-volume applications. Having Mitsubishi's high-performance machines on your line guarantees quicker throughput and a quicker ROI.
A HIGH THROUGHPUT SYSTEM.
We see the big picture. Our holistic approach can better address your throughput needs. Either Mitsubishi or our integrated partners can incorporate our robots into your production process. We then help analyze your complete application, review your system layout for optimum placement, minimize robot motion, review bottleneck and present a solution that is designed to maximize throughput.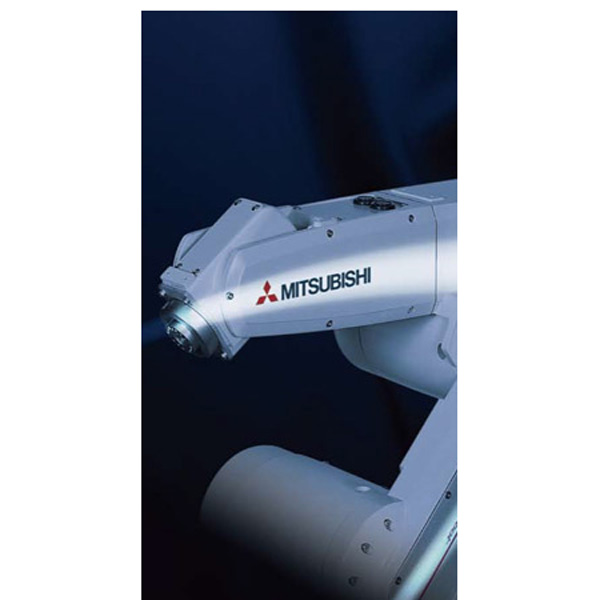 LABOR COSTS
LOWERING COSTS WHILE ENSURING QUALITY.
Producing goods in a high-wage economy to compete with goods from low-wage economies leave little room for error. Our robots have more precision and control so can effectively eliminate defects and waste associated with human labor. With the ability to work in harsh conditions and excel in repetitive tasks not suited for people, robots can reduce plant risk and excessive insurance and safety costs. No person is perfect, so with Mitsubishi robots, you'll reduce the price tag associated with unavoidable human error.
SAVE BY DOING IT RIGHT.
Mitsubishi robots produce a high return on investment (ROI). They are ruggedly built to work reliably, even in harsh environments. They work at high speeds without sacrificing accuracy. Our robots can be used to create processes that are predictable and consistent. As a result, you'll discover great savings through decreased downtime, lowered labor costs, reduced scrap rate and increased production and performance. We also have over 200 model variations of SCARA, micro, assembly, and six-degrees-of-freedom articulated robots. They can handle up to 20 Kg payloads. This allows you to choose the right- sized and right-priced robot for your application.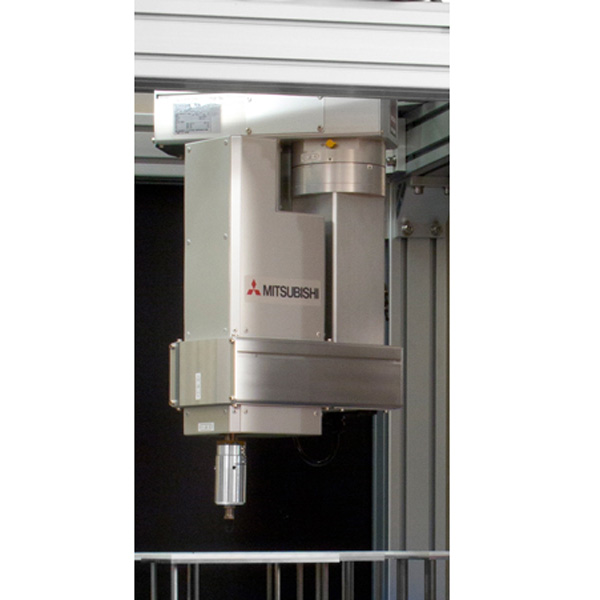 COMPACT FOOTPRINT
DOING MORE WITH A LOT LESS.
Eliminate the need for extensive space and safety measures, our robots work in close-knit clusters around fast-moving machinery. With a more compact footprint, you can do more with factory space such as keep inventory and equipment closer to operations. Mitsubishi robots have small footprints with high payload capabilities, making them ideal for high-speed, high-accuracy applications.
SMALL WORK CELL, BIG WORK ENVELOPE.
Maximizing floor space is simple when the robots aren't even on the floor. Mitsubishi's RH-3 SCARA robots are ceiling mounted; their compact size and overhead installation provide a smaller work cell. Wasted space is also eliminated through each robot's easy, consolidated piping path. Because the RH-3 models are lightweight, they require smaller, less-costly support structures. And despite the reduced footprint, the RH-3 has a large work envelope (700mm x 150mm) with no dead space. Ideal for packing and pick-and-place applications, the RH-3 offers a greater operating range than traditional floor-mounted machines.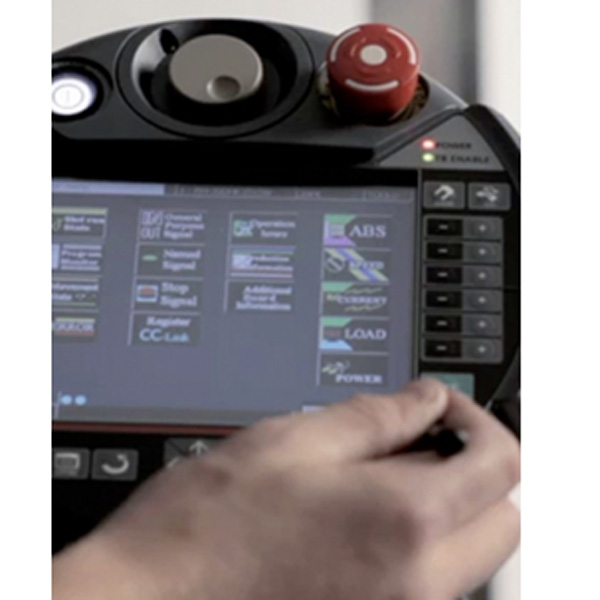 SAFETY & ERGONOMICS
NEVER LET PEOPLE DO WHAT ROBOTS CAN DO SAFER.
Whether it's working in harsh environments or repeatedly lifting hard to grip objects, Mitsubishi robots can handle jobs humans generally find difficult. All of our machines are designed to meet the latest safety standards for robotic devices. When your people no longer do the heavy lifting, you can reduce costs associated with greater safety needs. In fact, with Mitsubishi robots taking care of high-speed, repetitive tasks, human capital can move to supervisory roles and away from dangerous conditions.