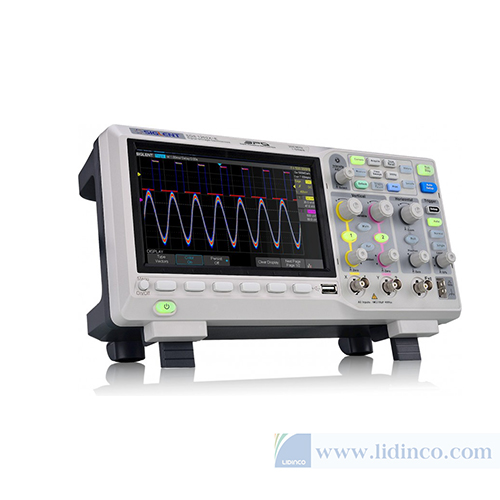 Digital Oscilloscope Siglent SDS1202X-E, 200Mhz, 2 CH
12,960,000 ₫
• Manufacturer

• Model

• Warranty


Siglent


SDS1202X

12 months

Please call us to get the best price and service
(028) 3977 8269 – (028) 3601 6797
Email: sales@lidinco.com – lidinco@gmail.com
Description
Additional information
Description
Digital Oscilloscope Siglent SDS1202X-E, 200Mhz, 2 CH, 1GSa/s, 7 inch.
SIGLENT's new SDS1000X-E Super Phosphor Oscilloscopes feature two channel and four channel models. The two channel model is available with a 200 MHz analog bandwidth, a single ADC with a 1 GSa/s maximum sample rate, and a single memory module with 14 Mpts of sample memory. The four channel scope is available in 100 and 200 MHz models and incorporates two 1 GSa/s ADCs and two 14 Mpts memory modules. When all channels are enabled, each channel has sample rate of 500 MSa/s and a standard record length of 7 Mpts. When only a single channel per ADC is active, the maximum sample rate is 1 GSa/s and the maximum record length is 14 Mpts. For ease -of -use, the most commonly used functions can be accessed with its user- friendly front panel design.
Key Features
◆ 100 MHz, 200 MHz bandwidth models
◆ Two channel series have one 1 GSa/s ADC, four channel series have two 1 GSa/s ADCs. When all channels are enabled, each channel has a maximum sample rate of 500 MSa/s. When a single channel per ADC is active, it has sample rate of 1 GSa/s
◆ The newest generation of SPO technology
◆ Waveform capture rate up to 100,000 wfm/s (normal mode), and 400,000 wfm/s (sequence mode)
◆ Supports 256-level intensity grading and color display modes
◆ Record length up to 14 Mpts
◆  Digital trigger system
◆ Intelligent trigger: Edge, Slope, Pulse Width, Window, Runt, Interval, Time out (Dropout), Pattern
◆ Serial bus triggering and decoding (Standard), supports protocols IIC, SPI, UART, RS232, CAN, LIN
◆ Video trigger, supports HDTV
◆ Low background noisewith voltage scales from 500 μV/div to 10 V/div
◆10 types of one-button shortcuts, supports Auto Setup, Default, Cursors, Measure, Roll, History, Display/Persist, Clear Sweep, Zoom and Print
◆ Segmented acquisition (Sequence) mode, divides the maximum record length into multiple segments (up to 80,000), according to trigger conditions set by the user, with a very small dead time segment to capture the qualifying event.
◆ History waveform record (History) function, maximum recorded waveform length is 80,000 frames.
◆ Automatic measurement function for 38 parameters as well as Measurement Statistics, Zoom, Gating, Math, History and Reference functions
◆ 1 Mpts FFT
◆ Math and measurement functions use all sampled data points (up to 14 Mpts)
◆ Math functions (FFT, addition, subtraction, multiplication,division, integration, differential, square root)
◆ Security Erase modePreset key can be customized for user settings or factory "defaults"
◆ Security Erase mode
◆ High Speed hardware based Pass/ Fail function
◆ MSO, 16 digital channels (four channel series only, option)
◆ Bode plot (four channel series only)
◆ Search and navigate (four channel series only)
◆ USB AWG module (four channel series only, option)
◆ USB WIFI adapter (four channel series only, option)
◆ Web Browser based control (four channel series only)
◆ Large 7 inch TFT -LCD display with 800 * 480 resolution
◆ Multiple interface types: USB Host, USB Device (USB -TMC), LAN Pass / Fail, Trigger Out
◆ Supports SCPI remote control commands
◆ Supports Multi-language display and embedded online help
Cataloge: SDS1000X-E_DataSheet