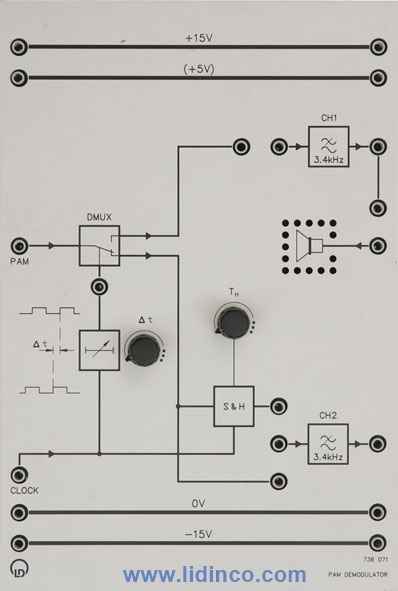 Digital Communication Technology
Description
Digital Communication Technology" discusses all topics of digital signal processing. Additionally attention is payed to the realisation and function of a fiber optic transmission system. Emphasis is laid upon the applications of PCM technology, e.g.: transmission of voice signals with real telephones, sound cards, CD-player etc.
Topics
Caracteristics of pulse carriers
Generation of PAM
PAM (natural)
PAM (S&H)
PAM spectrum
Over sampling / under sampling
Aliasing
Shannon theorem
Pulse code modulation (PCM)
Quantization linear and nonlinear
Compression / expanding
Code errors
Time division multiplexing (TDM)
Synchronization
Quantization noise
Difference pulse code modulation (DPCM)
Optical signal transmission
Signal transmission by wire (coaxial line / two-wire line)
Simplex / duplex communication
Options
Transmission of voice (requieres external signals as CD player, telephones etc.)
Linear and nonlinear quantization and the influence on the quality of voice
Duplex communication- Digital Communication Technology as well as external signal sources)
Components
  – Modulator PAM (2x)
– Modulator PCM (2x)
– Clock generator
– Demodulator PAM (2x)
– Demodulator PCM (2x)
Signal sources, inputs and outputs
  – Signal source, sinewave 1 kHz
– Signal source, sinewave 2 kHz
– RJ12 socket with hybrid circuit
– Input /output for external signal sources
– Optical transmitter
– Optical receiver
– Optical fiber with connectors, 3 m
Projects
The course can be combined with other didactical systems from our product range as T 7.4.8 Radio Links by microwaves or T 7.2.6 Optical Communication.