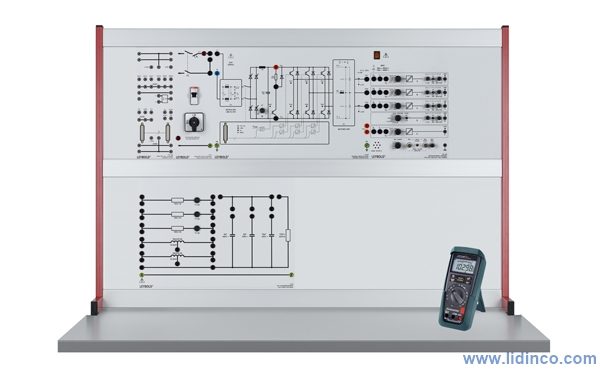 1KW inverter
Description
The experiments are carried out using industrial-design machines. All the test machines possess a special base for connecting the Machine test system 1.0. The testing system can be used to record the characteristics of the machines under test. Power for the machines is supplied either via the mains or by special laboratory power supplies.
Objectives
Protective measures and electrical safety
Setting up electrical machines and putting them into operation
Use of starting circuits
Assessment of electrical machine characteristics
The test machine is an industrial frequency converter motor consisting of a four-pole asynchronous three-phase motor with a power rating of 1.1 kW and an integrated frequency converter. The motor and the converter are optimally fine-tuned to one another. The experiment investigates the features of the operating response in comparison to other types of machine without built-in power electronics. More advanced topics such as positioning control or non-linear load characteristics (winding machines, fans etc.) are investigated in E2.6 Servo technology using 300 W machines.
Features
In order to protect against overheating, the stator windings of the machines to be tested are equipped with temperature sensors
Should overheating occur, the machine test system automatically shuts down the test machine, thus preventing any damage to it.
The machines to be tested are equipped with an educationally designed terminal board with the winding configuration printed on it.
The ends of all the windings are connected to the terminal board and can be accessed via 4-mm safety sockets
Computer-supported acquisition of measurement data provides for meaningful measurement results.
Machines in the 1 kW rating class have a powerful and realistic operating response
In comparison to smaller machines, their characteristics display distinctive features related to the design.
The equipment set is suitable both for student experiments in a lab using low voltage (400 V three-phase) and on a mobile trolley for demonstrations by teachers in a classroom. The experiment procedures are contained in a printed manual.
The target group is made up of commercial apprentices and students of electrical machine construction. The course offers experiments at an intermediate level and also allows for the necessary insight into machine behaviour for scientific interpretation at undergraduate level.
Topics
Design and function of a frequency converter controlled motor
Operation with a power amplifier
Run-up and operating characteristics
How speed depends on frequency
How speed depends on load: fan, pump, winding machine, flywheel