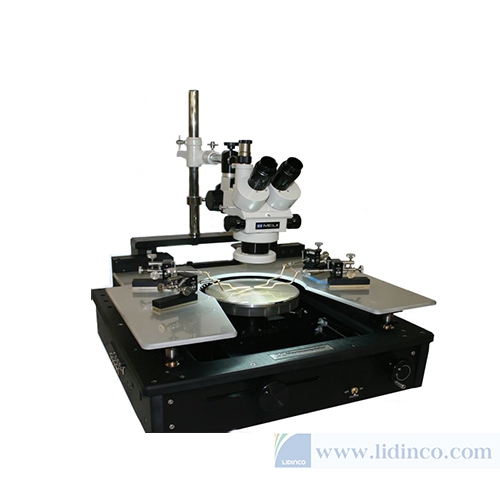 450PM Manual Probe Station
• Manufacturer

• Model

• Warranty


Micromanipulator

450PM

12 months

Please call us to get the best price and service
(028) 3977 8269 – (028) 3601 6797
Email: sales@lidinco.com – lidinco@gmail.com
Description
450PM Features and Benefits
• Manual lead screw control of stage for long life and stable, quick positioning.
• Lead screw control of platen offered on 450PM-A models
for probe card positioning.
• Manual chuck theta rotation with a convenient lock.
• Stereo Zoom or Compound microscope on stable boom allows manual X-Y positioning with precise focus control.
• Ergonomic, compact design enhances ease of use while increasing stability.
• Compact foot print for efficient use of lab space.
• Large aluminum platen allows operators to choose from a variety of convenient manipulator placement options.
• 8-inch (200mm) ambient vacuum chuck with full 8"x8" wafer stage travel.
• Optional hot chuck may be added including internal cable/hose handling assembly with convenient termination at the rear of the probe station.
Station specifications
Test Station Dimensions
• Footprint (Width x Depth) 22.75" x 23.35" (57.7×59.3cm).
Station Width, Depth, Height 28.5" x 26.75" x 21.5"
(72.3×67.9x 54.6cm). Weight: 191 lb. (86.6 kg).
X-Y Stage Movement
• Cast stage cores for faster settling time.
• Cross roller bearing way construction for high reliability and precision.
• X and Y axis range 8" x 8" (200mm x 200mm). Manual control
• Resolution 1 µm per degree.
Chuck Theta:
• Provided through easy-to-use thumb screw secured rotatable hub on fixed chuck post.
Microscope
• Boom mount allows up to 8" (200mm) in Y positioning. Rotation on mounting pole up to 180 degrees.
• Vertical positioning up to 8" (200mm) gross with 1" microscope fine focus control.
Large-area Aluminum Platen
• 450PM-A: 1" (25.4mm) Z axis range via platen fine lift control, resolution 40 microns (0.0015") per rotation.
• 450PM-B: Fixed, stable platen.