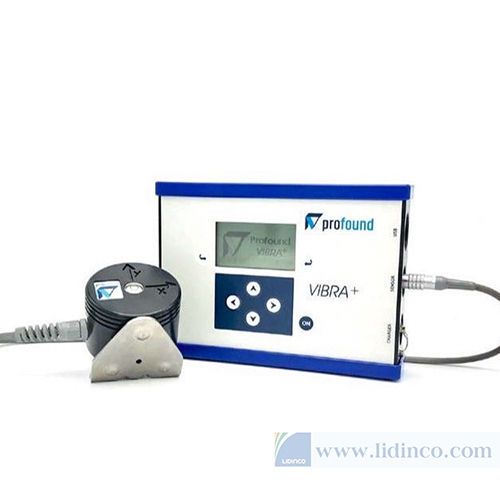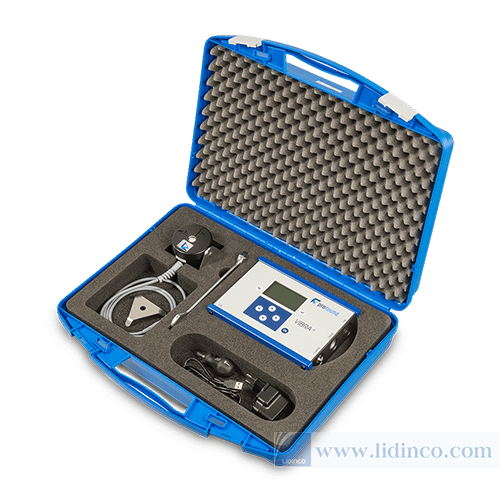 VIBRATION MONITORING VIBRA+
•Manufacturer

• Model

• Warranty


Profound

VIBRA+

12 months

Please call us to get the best price and service
(028) 3977 8269 – (028) 3601 6797
Email: sales@lidinco.com – lidinco@gmail.com
Description
Additional information
Description
Operation
Setting up the system on site is easy: attach the 3-dimensional sensor to the structure to be monitored, switch on the system and start measuring. During measuring the VIBRA displays the current vibration values of the 3 directions including frequency, the maxima, besides date, time, remaining battery capacity, available memory.
The VIBRA can be left unattended to operate continuously for weeks.
The system is robust, lightweight, portable and battery-operated. At the same time, the system provides a fully continuous and automatic registration of the vibration peak values up to a month.
Data handling
Real-time monitoring and analysis
The VIBRA+ can be set up for wireless automatic data transfer via the integrated 4G modem including multiple fallback options to your PC. Data can also be continuously uploaded to any FTP server for real-time online monitoring. As an alternative Profound offers a turnkey online monitoring service via www.vibramonitoring.eu.
The VIBRA can also be connected to your PC via USB for data retrieval, even while measuring. With the PC software supplied together with the system, data are directly presented in graphs for detailed reporting. You also simply export data to a csv-file. With the PC Remote Control software it is possible to log in remotely to your VIBRA system.
Application
With a Profound VIBRA+ system, vibrations that are caused by traffic, pile driving, demolition work or blasting can be monitored continually and accurately. By recording the vibrations you can assess the risk of damage to buildings and sensitive equipment as well as the nuisance to people in an objective manner in accordance with the applicable guidelines
Key advantages
Continuous and online vibration monitoring according to a large range of standards such as DIN 4150-2 and -3, BS 5228-2, BS 7385-2, SBR A and B, SS 460 48 61, blasting standards SS 460 48 66 and AS 2187.2 and is according to DIN 45669-1:2010.

Direct display of measured peak values in X, Y, Z at the project location

Real-time interpretation and verification of the vibration levels against ruling codes

Downloading data or uploading data without measurement interruption

Unattended vibration measuring for up to 28 days due to the high-tech, low power consumption electronic design in combination with software intelligence. System can also be connected to the mains

Option: extended range up to 315 Hz

Wireless automatic data transfer via integrated modem

Flexible use: direct SMS alarm, e-mail or FTP

Real-time data upload to any FTP server or vibramonitoring.com

Ring memory including ring buffer in server mode

Direct SMS alarm communication

Frequency-dependent velocity alarm (smart alarm)

'Search Networks' option in the VIBRA system. Find the provider with the best GPRS connection at the project location

Compact, robust field-computer that is very easy to operate

Continuous PC Trace Recorder: full measurement signal

Professional and fast (graphical) presentation of the monitoring results.