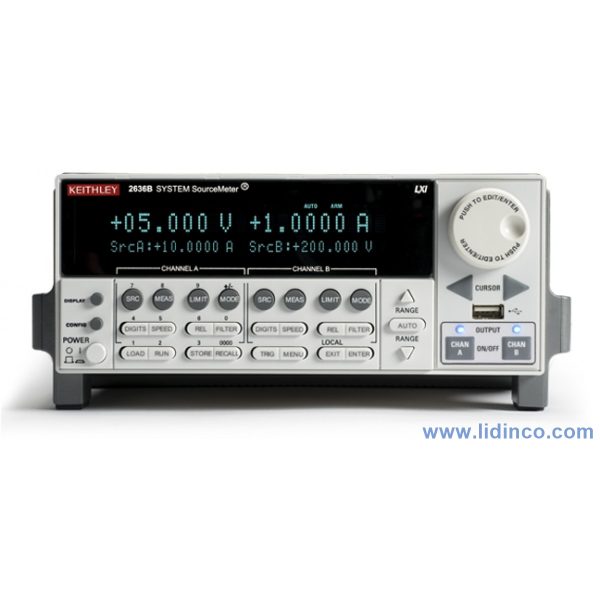 Sourcemeter Keithley 2636B Dual-channel
• Manufacturer

• Model

• Warranty


Keithley  

2636B

12 months
Please call us to get the best price and service
(08) 3977 8269 – (08) 3601 6797
Email: sales@lidinco.com – lidinco@gmail.com
Description
Specifications
Accessories
Description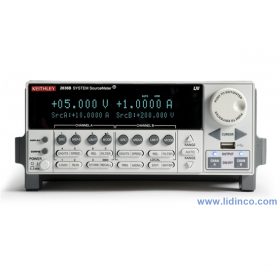 Sourcemeter Keithley 2636B Dual-channel
The Series 2600B System SourceMeter SMU Instruments are the industry's leading current/voltage source and measure solutions, and are built from Keithley's 3rd generation SMU technology. The Series 2600B offers single- and dual-channel models that combine the capabilities of a Precision Power Supply, true Current Source, 6-1/2 digit DMM, Arbitrary Waveform Generator, Pulse Generator, and Electronic Load – all into one tightly integrated instrument. The result is a powerful solution that significantly boosts productivity in applications ranging from bench-top I/V characterization through highly-automated production test. For bench-top use, Series 2600B instruments feature built-in, Java-based software that enables plug & play I/V testing through any browser, on any computer, from anywhere in the world. For automated system applications, the Series 2600B's Test Script Processor (TSP) runs complete test programs from inside the instrument for industry-best through-put. In larger, multi-channel applications, Keithley's TSP-Link technology works together with TSP to enable high-speed, SMU-per-pin parallel testing. Because Series 2600B SourceMeter SMU Instruments have fully isolated channels that do not require a mainframe, they can be easily re-configured and re-deployed as your test applications evolve.
Java-based Plug & Play I/V Test Software
The Series 2600B are the only SMU instruments to feature built-in, Java-based test software that enables true plug & play I/V characterization through any browser, on any computer, from anywhere in the world. This unique capability boosts productivity across a wide range of applications such as R&D, education, QA/FA, and more. Simply connect the 2600B to the internet via the supplied LAN cable, open a browser, type in the 2600B's I.P. address, and begin testing. Resulting data can be downloaded to a spreadsheet such as Excel for further analysis and formatting, or for inclusion in other documents or presentations.
Unmatched Throughput for Automated Test with TSP Technology
All channels in the TSP-Link
system are synch ronized to under 500ns.
For test applications that demand the highest levels of automation and throughput, the Model 2600B's TSP technology delivers industry-best performance.  TSP technology goes far beyond traditional test command sequencers… it fully embeds then executes complete test programs from within the SMU instrument itself.  This virtually eliminates all the time-consuming bus communications to and from the PC controller, and thus dramatically improves overall test times.
Model 2400 Software Emulation
TSP technology executes complete
test programs from the
2600B's non-volatile memory.
The Series 2600B is compatible with test code developed for Keithley's Model 2400 SourceMeter SMU instrument. This enables an easier upgrade from Model 2400-based test systems to Series 2600B, and can improve test speeds by as much as 80%. In addition, it provides a migration path from SCPI programming to Keithley's TSP technology, which when implemented can improve test times even more. For complete support of legacy test systems, the Model 2400's Source-Memory-List test sequencer is also fully supported in this mode.
SMU-Per-Pin Parallel Testing with TSP-Link Technology
TSP-Link is a channel expansion bus that enables multiple Series 2600B's to be inter-connected and function as a single, tightly-synchronized, multi-channel system.  The 2600B's TSP-Link technology works together with its' TSP technology to enable high-speed, SMU-per-pin parallel testing. Unlike other high-speed solutions such as large ATE systems, the 2600B achieves parallel test performance without the cost or burden of a mainframe.  The TSP-Link based system also enables superior flexibility, allowing for quick and easy system re-configuration as test requirements change.
Third-generation SMU Instrument Design Ensures Faster Test Times
Based on the proven architecture of earlier Series 2600 instruments, the Series 2600B's SMU instrument design enhances test speed in several ways. For example, while earlier designs used a parallel current ranging topology, the Series 2600B uses a patented series ranging  topology, which provides faster and smoother range  changes and outputs that settle more quickly.
SMU-Per-Pin Parallel Testing using TSP and TSP-Link improves test throughput and lowers the cost of test.
The Series 2600B SMU instrument design supports two modes of operation for use with a variety of loads. In normal mode, the SMU instrument provides high bandwidth performance for maximum throughput. In high capacitance (high-C) mode, the SMU instrument uses a slower bandwidth to provide robust performance with higher capacitive loads.
Simplify Semiconductor Component Test, Verification, and Analysis
The optional ACS Basic Edition software maximizes the productivity of customers who perform packaged part characterization during development, quality verification, or failure analysis. Key features include:
Rich set of easy-to-access test libraries

Script editor for fast customization of existing tests

Data tool for comparing results quickly

Formulator tool that analyzes captured curves and provides a wide range of math functions
For more information about the ACS Basic Edition software, please refer to the ACS Basic Edition data sheet.
Powerful Software Tools
In addition to the embedded Java-based plug & play software and optional ACS Basic Edition software, the free Test Script Builder software tool is provided to help users create, modify, debug, and store TSP test scripts. Table 1 describes key features of Series 2600B software tools.
Table 1. Series 2600B software tools
When you need to acquire data on a packaged part quickly, the wizard-based user interface of ACS Basic Edition makes it easy to find and run the test you want, like this common FET curve trace test.
Three new dual-channel bench-top models of Series 2600B offer industry-best value and performance.
For applications that do not require leading-edge system-level automation capabilities, Keithley has expanded the 2600B series to include 3 new value-priced "bench-top" models – the 2604B, 2614B, and 2634B.  These models offer similar performance to Models 2602B, 2612B, and 2636B, respectively, however do not include TSP-Link, Contact Check, and Digital I/O capabilities.
Complete Automated System Solutions
Keithley's S500 Integrated Test Systems are highly configurable, instrument-based systems for semiconductor characterization at the device, wafer, or cassette level. Built on our proven Series 2600 System SourceMeter SMU instruments, our S500 Integrated Test Systems provide innovative measurement features and system flexibility, scalable to your needs. The unique measurement capability, combined with the powerful and flexible Automated Characterization Suite (ACS) software, provides a comprehensive range of applications and features not offered on other comparable systems on the market.
In the first and third quadrants, Series 2600B instruments operate as a source, delivering power to a load. In the second and fourth quadrants, they operate as a sink, dissipating power internally.
Models 2601B, 2602B, and 2604B I-V capability
Models 2611B, 2612B, and 2614B I-V capability
Models 2634B, 2635B, and 2636B I-V capability
TYPICAL APPLICATIONS
I-V functional test and characterization of a wide range of devices, including:

Discrete and passive components

Two-leaded – Sensors, disk drive heads, metal oxide varistors (MOVs), diodes, zener diodes, sensors, capacitors, thermistors

Three-leaded – Small signal bipolar junction transistors (BJTs), field-effect transistors (FETs), and more

Simple ICs – Optos, drivers, switches, sensors, converters, regulators

Integrated devices – small scale integrated (SSI) and large scale integrated (LSI)

Analog ICs

Radio frequency integrated circuits (RFICs)

Application specific integrated circuits (ASICs)

System on a chip (SOC) devices

Optoelectronic devices such as light-emitting diodes (LEDs), laser diodes, high brightness LEDs (HBLEDs), vertical cavity surface-emitting lasers (VCSELs), displays

Wafer level reliability

NBTI, TDDB, HCI, electromigration

Solar Cells

Batteries

And more…
General Specification

IEEE-488

IEEE-488.1 compliant. Supports IEEE-488.2 common commands and status model topology

USB CONTROL (REAR)

USB 2.0 device, TMC488 protocol

RS-232

Baud rates from 300bps to 115200bps

ETHERNET

RJ-45 connector, LXI Class C, 10/100BT, no auto MDIX

EXPANSION INTERFACE

The TSP-Link expansion interface allows TSP enabled instruments to trigger and communicate with each other. (Not available on Model 2604B.)


Cable Type: Category 5e or higher LAN crossover cable
Length: 3 meters maximum between each TSP enabled instrument.

LXI COMPLIANCE

LXI Class C 1.4

LXI TIMING

Total Output Trigger Response Time

245µs min., 280µs typ., (not specified) max

Receive LAN[0-7] Event Delay

Unknown

Generate LAN[0-7] Event Delay

Unknown

DIGITAL I/O INTERFACE

Connector

25-pin female D.

Input/Output Pins

14 open drain I/O bits

Absolute Maximum Input Voltage

5.25V

Absolute Minimum Input Voltage

–0.25V

Maximum Logic Low Input Voltage

0.7V, +850µA max

Minimum Logic High Input Voltage

2.1V, +570µA

Maximum Source Current (flowing out of Digital I/O bit)

+960µA

Maximum Sink Current @ Maximum Logic Low Voltage (0.7V)

–5.0mA.

Absolute Maximum Sink Current (flowing into Digital I/O pin)

–11mA (not including Model 2604B)

5V Power Supply Pin

Limited to 600mA, solid state fuse protected.

Output Enable

Active high input pulled down internally to ground with a 10kΩ resistor; when the output enable input function has been activated, each SourceMeter channel will not turn on unless the output enable pin is driven to >2.1V (nominal current = 2.1V/10kΩ = 210µA)

USB FILE SySTEM (FRONT)

USB 2.0 Host

Mass storage class device

POWER SUPPLY

100V to 250VAC, 50–60Hz (auto sensing), 240VA max

COOLING

Forced air. Side intake and rear exhaust. One side must be unobstructed when rack mounted

EMC

Conforms to European Union Directive 2004/108/EEC, EN 61326-1

SAFETY

Conforms to European Union Directive 73/23/EEC, EN 61010-1, and UL 61010-1

DIMENSIONS

89mm high × 213mm wide × 460mm deep (3½ in × 8 3 / 8 in × 17½ in). Bench Configuration (with handle and feet): 104mm high × 238mm wide × 460mm deep (4 1 / 8 in × 9 3 / 8 in × 17½ in)

WEIGHT

2601B

4.75kg (10.4 lbs)

2602B, 2604B

5.50kg (12.0 lbs)

ENVIRONMENT:For indoor use only

Altitude

Maximum 2000 meters above sea level

Operating

0°–50°C, 70% R.H. up to 35°C. Derate 3% R.H./°C, 35°–50°C

Storage

–25°C to 65°C
SPECIFICATION CONDITIONS
This document contains specifications and supplemental information for the Models 2601B, 2602B, and 2604B System SourceMeter ® instruments. Specifications are the standards against which the Models 2601B, 2602B, and 2604B are tested. Upon leaving the factory, the 2601B, 2602B, and 2604B meet these specifications. Supplemental and typical values are non- warranted, apply at 23°C, and are provided solely as useful information.
Accuracy specifications are applicable for both normal and high capacitance modes. The source and measurement accuracies are specified at the SourceMeter CHANNEL A (2601B, 2602B, and 2604B) or SourceMeter CHANNEL B (2602B and 2604B) terminals under the following conditions:
23°C ± 5°C, <70% relative humidity

After 2 hour warm-up

Speed normal (1 NPLC)

A/D auto-zero enabled

Remote sense operation or properly zeroed local operation

Calibration period = 1 year
SOURCE SPECIFICATIONS

VOLTAGE SOURCE SPECIFICATIONS

VOLTAGE PROGRAMMING ACCURACy

Range

Programming




Resolution

Accuracy (1 year)




23°C ±5°C




±(% rdg. + volts)

Typical Noise




(peak-peak)




0.1Hz–10Hz

100 mV

5 µV

0.02% + 250 µV

20 µV

1 V

50 µV

0.02% + 400 µV

50 µV

6 V

50 µV

0.02% + 1.8 mV

100 µV

40 V

500 µV

0.02% + 12 mV

500 µV

TEMPERATURE COEFFICIENT




(0°–18°C and 28°–50°C)

±(0.15 × accuracy specification)/°C. Applicable for normal mode only. Not applicable for high capacitance mode.

MAXIMUM OUTPUT POWER AND SOURCE/SINK LIMITS

40.4W per channel maximum. ±40.4V @ ±1.0A, ±6.06V @ ±3.0A, four quadrant source or sink operation

VOLTAGE REGULATION

Line

0.01% of range

Load

±(0.01% of range + 100µV)

NOISE 10Hz–20MHz

<20mV peak-peak (typical), <3mV RMS (typical), 6V range

CURRENT LIMIT/COMPLIANCE

Bipolar current limit (compliance) set with single value. Minimum value is 10nA. Accuracy same as current source

OVERSHOOT

<±(0.1% + 10mV) typical. Step size = 10% to 90% of range, resistive load, maximum current limit/compliance

GUARD OFFSET VOLTAGE

<4mV typical. Current <10mA

CURRENT SOURCE SPECIFICATIONS

CURRENT PROGRAMMING ACCURACy

Range

Programming




Resolution

Accuracy (1 year)




23°C ±5°C




±(% rdg. + volts)

Typical Noise




(peak-peak)




0.1Hz–10Hz

100 nA

2 pA

0.06% + 100 pA

5 pA

1 µA

20 pA

0.03% + 800 pA

25 pA

10 µA

200 pA

0.03% + 5 nA

60 pA

100 µA

2 nA

0.03% + 60 nA

3 nA

1 mA

20 nA

0.03% + 300 nA

6 nA

10 mA

200 nA

0.03% + 6 µA

200 nA

100 mA

2 µA

0.03% + 30 µA

600 nA

1 A

20 µA

0.05% + 1.8 mA

70 µA

3 A

20 µA

0.06% + 4 mA

150 µA

10 A

200 µA

0.5 % + 40 mA (typical)

 

TEMPERATURE COEFFICIENT




(0°–18°C and 28°–50°C)

±(0.15 × accuracy specification)/°C

MAXIMUM OUTPUT POWER AND SOURCE/SINK LIMITS

40.4W per channel maximum. ±1.01A @ ±40.0V , ±3.03A @ ±6.0V , four quadrant source or sink operation.

CURRENT REGULATION

Line

0.01% of range

Load

±(0.01% of range + 100pA)

VOLTAGE LIMIT/COMPLIANCE

Bipolar voltage limit (compliance) set with a single value. Minimum value is 10mV. Accuracy is the same as voltage source

OVERSHOOT

<±0.1% typical (step size = 10% to 90% of range, resistive load; see Current Source Output Settling Time for additional test conditions).

TRANSIENT RESPONSE TIME

<70µs for the output to recover to within 0.1% for a 10% to 90% step change in load.

VOLTAGE SOURCE OUTPUT SETTLING TIME

Time required to reach within 0.1% of final value after source level command is processed on a fixed range.


100mV, 1V Ranges: <50µs typical.
6V Range: <100µs typical
40V Range: <150µs typical

CURRENT SOURCE OUTPUT SETTLING TIME

Time required to reach within 0.1% of final value after source level command is processed on a fixed range. Values below for I out × R load = 1V unless noted.


3A Range: <50µs typical.
100mV, 1V Ranges: <80µs typical (current less than 2.5A, R load >2Ω).
1A–10mA Ranges: <80µs typical (R load >6Ω)
1mA Range: <100µs typical
100µA Range: <150µs typical
10µA Range: <500µs typical
1µA Range: <2.5ms typical
100nA Range: <25ms typical

DC FLOATING VOLTAGE

Output can be floated up to ±250VDC from chassis ground

REMOTE SENSE OPERATING RANGE

Maximum voltage between HI and SENSE HI = 3V .




Maximum voltage between LO and SENSE LO = 3V.

VOLTAGE OUTPUT HEADROOM

40V Range

Max. output voltage = 42V – total voltage drop across source leads (maximum 1Ω per source lead).

6V Range

Max. output voltage = 8V – total voltage drop across source leads (maximum 1Ω per source lead).

OVER TEMPERATURE PROTECTION

Internally sensed temperature overload puts unit in standby mode

VOLTAGE SOURCE RANGE CHANGE OVERSHOOT

<300mV + 0.1% of larger range (typical). Overshoot into an 100kΩ load, 20MHz BW

CURRENT SOURCE RANGE CHANGE OVERSHOOT

<5% of larger range + 300mV/R load (typical with source settling set to SETTLE_SMOOTH_100NA). See Current Source Output Settling Time for additional test conditions.

NOTES

Add 50µV to source accuracy specifications per volt of HI lead drop.

High Capacitance Mode accuracy is applicable at 23°C ±5°C only.

Full power source operation regardless of load to 30°C ambient. Above 30°C and/or power sink operation, refer to "Operating Boundaries" in the Series 2600B Reference Manual for additional power derating information

For sink mode operation (quadrants II and IV), add 0.06% of limit range to the corresponding current limit accuracy specifications. Specifications apply with sink mode operation enabled.

Full power source operation regardless of load to 30°C ambient. Above 30°C and/or power sink operation, refer to "Operating Boundaries" in the Series 2600B Reference Manual for additional power derating information.

10A range accessible only in pulse mode

High Capacitance Mode accuracy is applicable at 23°C ±5°C only.

Full power source operation regardless of load to 30°C ambient. Above 30°C and/or power sink operation, refer to "Operating Boundaries" in the Series 2600B Reference Manual for additional power derating information.

For sink mode operation (quadrants II and IV), add 10% of compliance range and ±0.02% of limit setting to corresponding voltage source specification. For 100mV range add an additional 60mV of uncertainty.

Add 150µs when measuring on the 1A range

Add 50µV to source accuracy specifications per volt of HI lead drop
2600-BAN Interface Cable


Banana test leads/adapter cable

2600-KIT Screw Terminal Connector Kit
2600-Std-Res 1 GΩ Resistor


Calibration Standard

2600-TRIAX Triax Adapter


For single SMU channel

4299-1 Rack Mount Kit


Single, Heavy Duty, w/Front and Rear Support

4299-2 Rack Mount Kit


Dual, Heavy Duty, w/Front and Rear Support

4299-5 1U Vent Panel
7078-TRX-10 Triax Cable


Low Noise, 3-slot, 10 ft. (3 m) 

7078-TRX-GND BNC Adapter


3-Slot male triax to BNC, guard removed 

8010 High Power Device Test Fixture


Provides safe connections for testing high power devices.

8011 High Current Test Socket Kit


40V, 50A 

8101-4TRX Transistor Test Fixture


4-pin 

8606 Modular Probe Kit


Used w/8605 Modular Test Leads

ACS-BASIC Component Characterization Software


Automated characterization suite for component and discrete device characterization 

KPCI-488LPA GPIB Interface Board


for PCI Bus