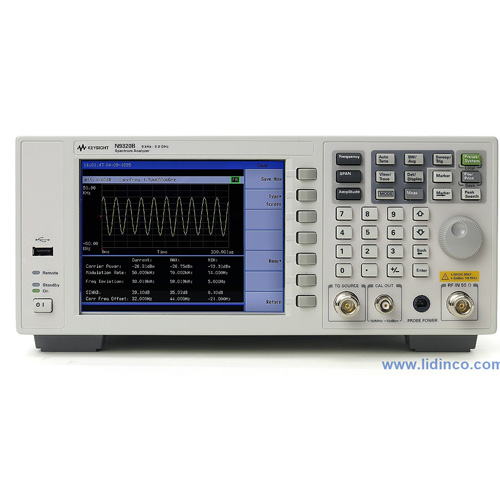 Spectrum analyzer Keysight N9322C 9 KHz – 7 Ghz
• Manufacturer

• Model

• Warranty


Keysight

N9322C

12 months
Please call us to get the best price and service
(08) 3977 8269 – (08) 3601 6797
Email: sales@lidinco.com – lidinco@gmail.com
Description
Specifications
Accessories
Description
Spectrum analyzer Keysight N9322C 9 KHz – 7 Ghz
Functionality
  9 kHz to 7 GHz; Optional 7 GHz internal pre-amplifier

  Optional 7 GHz tracking generator with built-in VSWR bridge

  Optional AM/FM, ASK/FSK demodulation analysis
Performance
  ±0.3 dB absolute amplitude accuracy

  -90 dBc/Hz phase noise at 10 kHz offset, +11 dBm third order intercept (TOI)

  -152 dBm displayed average noise level (DANL)

  ±0.7 dB frequency response
Measurement
  Keysight's PowerSuite one-button power measurements: Channel power, OBW, ACPR, SEM (standard); spectrogram (optional)

  Channel scanner measures up to 20 channels simultaneously

  Reflection measurements include: return loss, insertion loss and distance-to-fault

  Time-gated spectrum analysis
Automation and communication interface
  USB and LAN connectivity (standard), GPIB interface (optional)

  SCPI commands compatible with ESA spectrum analyzers

  Supported by Keysight HSA and BSA PC software
Frequency

9 kHz to 7 GHz

Frequency Options

7 GHz

Maximum Analysis Bandwidth

1 MHz

Bandwidth Options

1 MHz

DANL @1 GHz

-152 dBm

Phase Noise @1 GHz (10 kHz offset)

-90 dBc/Hz

Phase Noise @1 GHz (30 kHz offset)

-90 dBc/Hz

Phase Noise @1 GHz (1 MHz offset)

-115 dBc/Hz

Overall Amplitude Accuracy

±0.6 dB

TOI @1 GHz (3rd Order Intercept)

+15 dBm

Maximum Dynamic Range 3rd Order @1 GHz

83 dB

Applications-General Purpose

AM/FM Tune and Listen

ASK/FSK

Analog Demodulation

Cable Fault Location

Cable and Antenna Analysis

EMI Precompliance

Field Strength Measurement

SCPI Code Compatibility

Spectral Emissions Mask

Spectrogram

Stimulus Response

Applications-Cellular

n/a

Applications-Wireless Connectivity

n/a

Applications-Digital Video

n/a

Performance Level

◆◇◇◇◇◇

Standard Attenuator Range

50 dB

Standard Attenuator Step

1 dB

Applications Available

Yes

Benchtop

Yes
N9322C-P07 Preamplifier


7 GHz 

N9322C-1CM Rack Mount Kit


Without handle 

N9322C-1CP Rack Mount


And handle kit 

N9322C-1TC Hard Transit Case
N9322C-ABA Printed User's Guide


English language

N9322C-AMA AM/FM Demodulation Analysis
N9322C-BB1 Baseband Input
N9322C-DMA ASK/FSK Demodulation Analysis
N9322C-G01 GPIB Interface
N9322C-MNT Signal Monitor


With spectrogram recording and playback 

N9322C-PFR Precision Frequency Reference
N9322C-PRC Portable Configuration


Adds rubber handle and bumpers

N9322C-PWM USB Power Sensor Support


U2000 Series

N9322C-PWP USB Power Sensor Support


U2020 X-Series 

N9322C-RM7 Reflection Measurement


Requires opt.TG7 

N9322C-SCN Channel Scanner
N9322C-SEC Security Features


Data sanitation and port control

N9322C-TG7 Tracking Generator


7 GHz 

N9322C-TMG Time-Gated Spectrum Analysis
N9322C-TPN Task Planner


For test automation

N9322C-UK6 Commercial Calibration Certificate


With test data 

BV0000A BenchVue Software


Compatible with many DMMs, power supplies, function generators, signal analyzers, and oscilloscopes. Allows you to visualize multiple measurements simultaneously. BenchVue is a Free Download. Refer to the BenchVue Info Page for instrument-compatibility list and additional information. 

BV0005A BenchVue Spectrum Analyzer Pro Software License


deep memory capture and unrestricted data logging of screen images and trace data 

N9322C-EMC EMI Filters and Quasi-Peak Detector


For general purpose EMI precompliance test.




-6 dB. Offers CISPR compliance BW filters and quasi-peak detector with superior DANL performance and competitive sweep speed. AM/FM tune and listen at marker for signal discrimination.