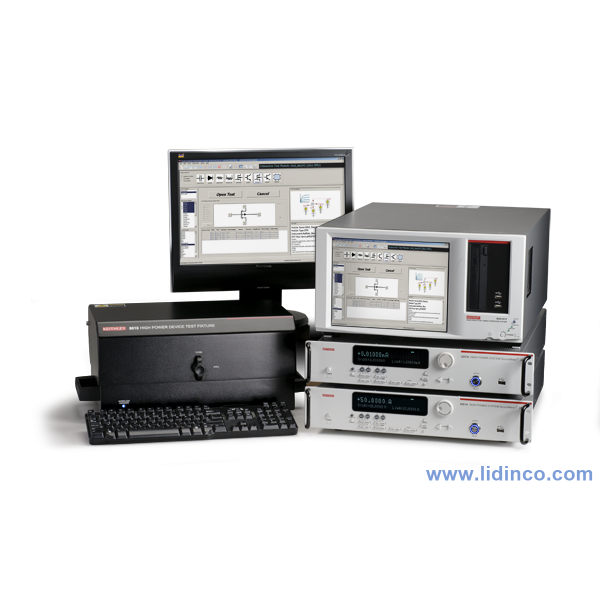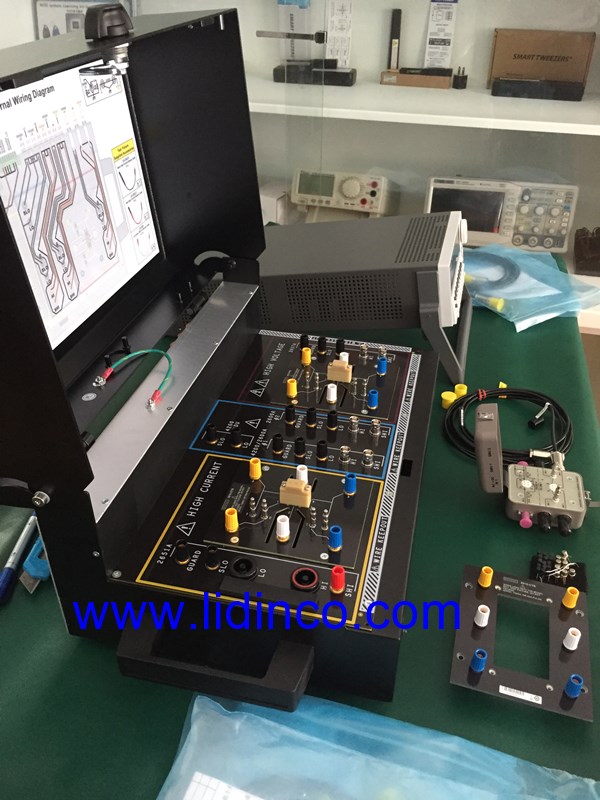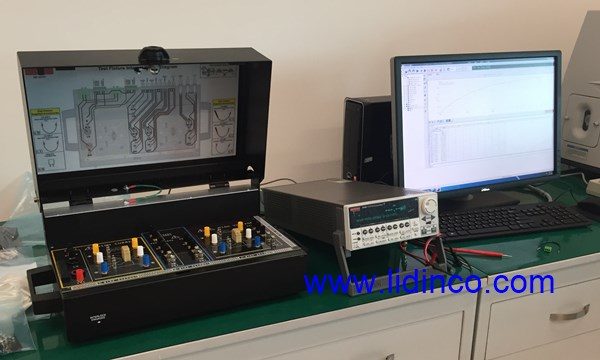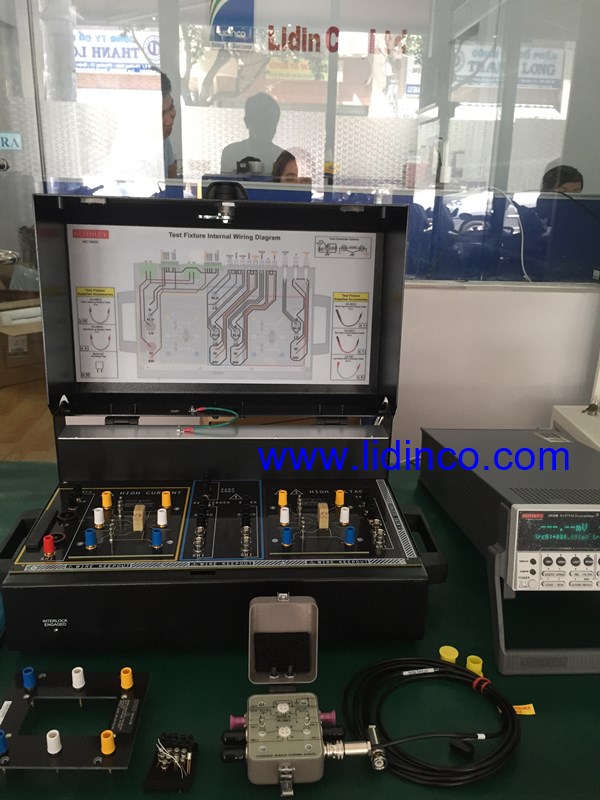 High Power Curve Tracer Keithley 2600-PCT
• Manufacturer

• Model

• Warranty


Keithley 

2600-PCT

12 months

Please call us to get the best price and service
(08) 3977 8269 – (08) 3601 6797
Email: sales@lidinco.com – lidinco@gmail.com
Description
Specification
Accessories
Description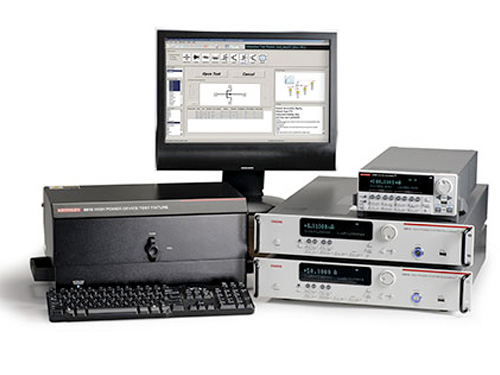 High Power Curve Tracer: 2600-PCT
Complete solutions engineered for optimum price and performance

Field upgradable and reconfigurable � convert your PCT to a reliability or wafer sort tester

Configurable power levels:

From 200V to 3kV

From 1A to 100A

Wide dynamic range:

From µV to 3kV

From fA to 100A

Full range of capacitance-voltage (C-V) capability:

fF to µF

Supports 2-, 3-, and 4-terminal devices

Up to 3kV DC bias

High performance test fixture supports a range of package types

Probe station interface supports most probe types including HV triax, SHV coax, standard triax, and others
High Power Device Characterization
Developing and using MOSFETS, IGBTs, diodes and other high power devices requires comprehensive device-level characterization such as breakdown voltage, on-state current and capacitance measurements. Keithley's line of high power Parametric Curve Tracer configurations supports the full spectrum of device types and test parameters. Keithley's Parametric Curve Tracer configurations include everything necessary for the characterization engineer to develop a complete test system quickly. ACS Basic Edition software provides complete device characterization, including both real-time trace mode for quickly checking fundamental device parameters like breakdown voltage and full parametric mode for extracting precise device parameters. ACS Basic Edition goes beyond traditional curve tracer interfaces by offering a broad array of sample libraries. More important, users have complete control of all test resources, allowing the creation of more advanced tests than previously possible on a curve tracer.
Java-based Plug & Play I/V Test Software
The Series 2600B are the only SMU instruments to feature built-in, Java-based test software that enables true plug & play I/V characterization through any browser, on any computer, from anywhere in the world. This unique capability boosts productivity across a wide range of applications such as R&D, education, QA/FA, and more. Simply connect the 2600B to the internet via the supplied LAN cable, open a browser, type in the 2600B's I.P. address, and begin testing. Resulting data can be downloaded to a spreadsheet such as Excel for further analysis and formatting, or for inclusion in other documents or presentations.
Unmatched Throughput for Automated Test with TSP Technology
All channels in the TSP-Link
system are synch ronized to under 500ns.
For test applications that demand the highest levels of automation and throughput, the Model 2600B's TSP technology delivers industry-best performance.  TSP technology goes far beyond traditional test command sequencers… it fully embeds then executes complete test programs from within the SMU instrument itself.  This virtually eliminates all the time-consuming bus communications to and from the PC controller, and thus dramatically improves overall test times.
Model 2400 Software Emulation
TSP technology executes complete
test programs from the
2600B's non-volatile memory.
The Series 2600B is compatible with test code developed for Keithley's Model 2400 SourceMeter SMU instrument. This enables an easier upgrade from Model 2400-based test systems to Series 2600B, and can improve test speeds by as much as 80%. In addition, it provides a migration path from SCPI programming to Keithley's TSP technology, which when implemented can improve test times even more. For complete support of legacy test systems, the Model 2400's Source-Memory-List test sequencer is also fully supported in this mode.
SMU-Per-Pin Parallel Testing with TSP-Link Technology
TSP-Link is a channel expansion bus that enables multiple Series 2600B's to be inter-connected and function as a single, tightly-synchronized, multi-channel system.  The 2600B's TSP-Link technology works together with its' TSP technology to enable high-speed, SMU-per-pin parallel testing. Unlike other high-speed solutions such as large ATE systems, the 2600B achieves parallel test performance without the cost or burden of a mainframe.  The TSP-Link based system also enables superior flexibility, allowing for quick and easy system re-configuration as test requirements change.
Third-generation SMU Instrument Design Ensures Faster Test Times
Based on the proven architecture of earlier Series 2600 instruments, the Series 2600B's SMU instrument design enhances test speed in several ways. For example, while earlier designs used a parallel current ranging topology, the Series 2600B uses a patented series ranging  topology, which provides faster and smoother range  changes and outputs that settle more quickly.
SMU-Per-Pin Parallel Testing using TSP and TSP-Link improves test throughput and lowers the cost of test.
The Series 2600B SMU instrument design supports two modes of operation for use with a variety of loads. In normal mode, the SMU instrument provides high bandwidth performance for maximum throughput. In high capacitance (high-C) mode, the SMU instrument uses a slower bandwidth to provide robust performance with higher capacitive loads.
Simplify Semiconductor Component Test, Verification, and Analysis
The optional ACS Basic Edition software maximizes the productivity of customers who perform packaged part characterization during development, quality verification, or failure analysis. Key features include:
Rich set of easy-to-access test libraries

Script editor for fast customization of existing tests

Data tool for comparing results quickly

Formulator tool that analyzes captured curves and provides a wide range of math functions
For more information about the ACS Basic Edition software, please refer to the ACS Basic Edition data sheet.
Powerful Software Tools
In addition to the embedded Java-based plug & play software and optional ACS Basic Edition software, the free Test Script Builder software tool is provided to help users create, modify, debug, and store TSP test scripts. Table 1 describes key features of Series 2600B software tools.
Table 1. Series 2600B software tools
When you need to acquire data on a packaged part quickly, the wizard-based user interface of ACS Basic Edition makes it easy to find and run the test you want, like this common FET curve trace test.
Three new dual-channel bench-top models of Series 2600B offer industry-best value and performance.
For applications that do not require leading-edge system-level automation capabilities, Keithley has expanded the 2600B series to include 3 new value-priced "bench-top" models – the 2604B, 2614B, and 2634B.  These models offer similar performance to Models 2602B, 2612B, and 2636B, respectively, however do not include TSP-Link, Contact Check, and Digital I/O capabilities.
Complete Automated System Solutions
Keithley's S500 Integrated Test Systems are highly configurable, instrument-based systems for semiconductor characterization at the device, wafer, or cassette level. Built on our proven Series 2600 System SourceMeter SMU instruments, our S500 Integrated Test Systems provide innovative measurement features and system flexibility, scalable to your needs. The unique measurement capability, combined with the powerful and flexible Automated Characterization Suite (ACS) software, provides a comprehensive range of applications and features not offered on other comparable systems on the market.
In the first and third quadrants, Series 2600B instruments operate as a source, delivering power to a load. In the second and fourth quadrants, they operate as a sink, dissipating power internally.
Models 2601B, 2602B, and 2604B I-V capability
Models 2611B, 2612B, and 2614B I-V capability
Models 2634B, 2635B, and 2636B I-V capability
TYPICAL APPLICATIONS
I-V functional test and characterization of a wide range of devices, including:
Discrete and passive components

Two-leaded – Sensors, disk drive heads, metal oxide varistors (MOVs), diodes, zener diodes, sensors, capacitors, thermistors

Three-leaded – Small signal bipolar junction transistors (BJTs), field-effect transistors (FETs), and more

Simple ICs – Optos, drivers, switches, sensors, converters, regulators

Integrated devices – small scale integrated (SSI) and large scale integrated (LSI)

Analog ICs

Radio frequency integrated circuits (RFICs)

Application specific integrated circuits (ASICs)

System on a chip (SOC) devices

Optoelectronic devices such as light-emitting diodes (LEDs), laser diodes, high brightness LEDs (HBLEDs), vertical cavity surface-emitting lasers (VCSELs), displays

Wafer level reliability

NBTI, TDDB, HCI, electromigration

Solar Cells

Batteries

And more…
Specifications
Collector/Drain Supply High Voltage Mode = 3kV/120mA
Collector/Drain Supply High Current Mode = 40V/50A
Step Generator Base/Gate Supply = 200V/10A
Auxiliary Supply = 200V/1A